MBA Admissions Services
For reasons too numerous to list, we are disappointed in the admissions consulting industry. There are too many charlatans taking advantage of vulnerable people. Generally speaking, we take no issue with people making money; in this case, however, we do because of the information asymmetry between the consumer and the purveyor. The seller knows far more than the buyer about the service being sold, an imbalance that too often leads to poor outcomes for the buyer.
What's worse, many consultancies create homogeneous products, namely your applications, by selling students on the idea that school-specific experts routinely craft better, more successful applications. This is simply not true.
Fundamentally, we do not believe that one's pitch to Wharton should be different from one's pitch to Berkeley. If it is, the inauthenticity will be sniffed out easily. And even if a student is able to get past the essay round, his or her lack of clarity and genuine passion will come out in an information session or, worse, an interview.
For these reasons, the last thing you should want is a [insert school here]-person help me get into a particular school. There are no secret handshakes. All schools are looking for amazing people who are committed to changing the world and value intellectual and cultural diversity. If a school has a reputation for admitting a certain type of person, the last thing you'd want is to make a pitch that conforms to that stereotype.
Your best chance to get in is to be different, which is to be yourself. We know that this sounds trite, but it's not. Your best way to charm the gatekeeper is to showcase the most authentic, unique, flattering version of your story. You have to "dig deep" to find (or revisit) what makes you quintessentially you. And, to do that, you don't want to be handled by someone who is helping countless others produce applications to the same school, each with an identical tint or agenda.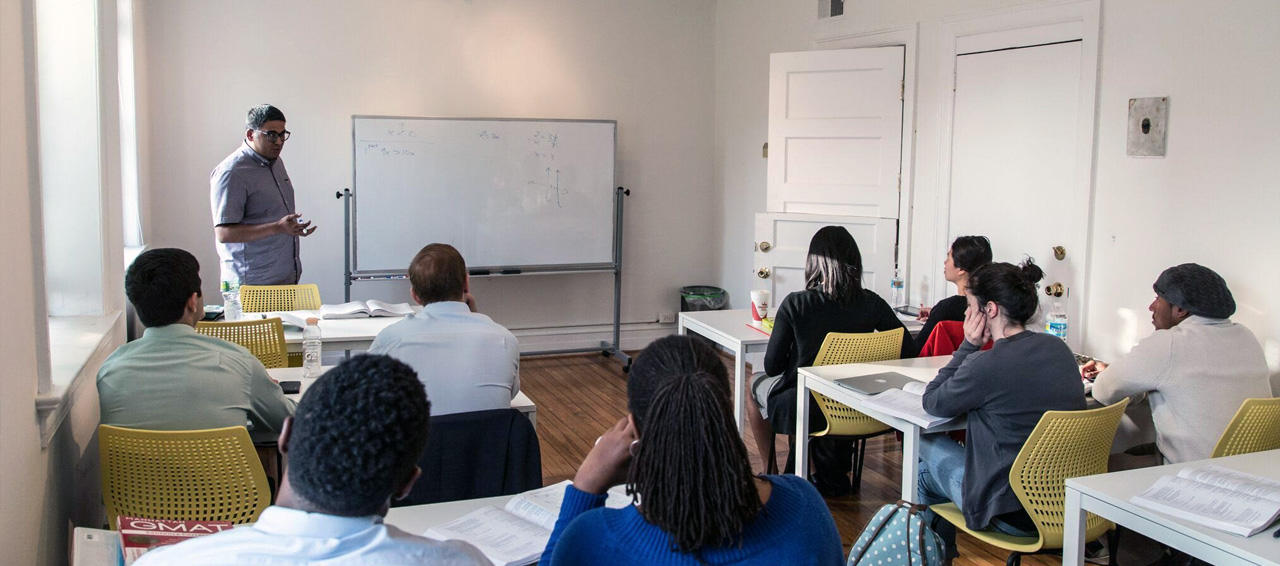 Pricing & Services
All of our admissions and applications services are offered a la carte at a flat rate, which is $199 per hour for Sherpa students and $299 per hour for students who have not enrolled in a GRE or GMAT course with Sherpa Prep. This hourly rate includes time spent editing resume and essay drafts or discussing strategy in-person, on the phone, or online.
School Compatibility & Assessment Advice
Resume Preparation for Info Sessions
Narrative Building
Essay Editing & Counseling
Application Form Review
Letter of Recommendation Advice
Interview Preparation
Waitlist Guidance
Post-Decision Counseling
Pre-Matriculation bootcamp
For rush services that require turnaround in less than 72 hours, we charge $399 per hour and require a $399 upfront deposit that will get credited toward the final cost of the work. Neither you nor we want you to be in this position. However, if you find yourself there, we'll bend over backwards to help you out if we can!
What to Expect
Our turnaround time for editing assistance is one week or less. Some essays require one draft, while others require multiple. Some edits require fifteen minutes, while others require two hours. We will always provide you cost certainty by letting you know ahead of time if we believe that a request will take a lot of time, so you will have the option to decline beforehand.
There is no way to know in advance, however, how much help a student will need. Writing skills vary, as does a person's ability to be introspective. In 2018, for example, we worked with one student who only attended our MBA admissions seminar and her free 1-1 needs assessment, accruing zero additional hours. On the flipside, we worked with another student who accrued the most hours of any student for the year: 18 hours. Both matriculated to HBS and both were extremely grateful for our help.
More often than not, students usually accrue between 5 and 10 hours of assistance, a range that had been both the mean and median for our MBA admissions students each of the last three years.
How We Compare
Before signing up, we recommend that you take the time to research our competitors and their pricing; in fact, we encourage it! Seriously, Google other MBA admissions services. Most consultancies are too embarrassed to say what they even charge. $400 per hour or more and five-figure application packages are not uncommon. But it's not just the rate. It's the number of hours that they bill. We are confident that our pricing is roughly 25% of what our competitors charge, and that's not even factoring in that we're actually more successful than they are at influencing outcomes.
When structuring our services, we compared our experiences and prices to the marketplace. Compared to our competitors, we found that:
We charge half the hourly rate.
We are twice as efficient.
In other words, we estimate that our help will cost you 75% less than theirs:

If this doesn't make sense to you, review GMAT Strategy Guide #7 or the Rates chapter of your GRE book on Word Problems. We will always be your instructors first!
Getting Started
If you'd like our help with the MBA admissions process, we strongly suggest that you first attend one of our monthly admissions seminars. For $199, our 2-hour admissions seminar discusses each of the following topics and includes a free 60-minute 1-1 needs assessment:
Why MBA Admissions Requires Self-Branding
Our Approach to the Application Process
How to Showcase Yourself
An Overview of How We Consult
Time-Frames & Planning
Before & After Resume Examples
Price Structure & Options
GRE vs. GMAT
Your Questions
Next Steps: HW & Your 1-1 Needs Assessment
After the seminar, you will be asked to complete our 1-1 needs assessment form and assigned a lead consultant. Your free 60-minute 1-1 needs assessment will help you identify the goal of your MBA or business degree, determine appropriate programs, and provide honest feedback on your candidacy, resume, and preliminary narrative. You can schedule your consultation any time that you are ready. There are no time limits or expiration dates.
We handle all of our students as a team and discuss each students' progress during our weekly team meetings. Nafeez, the head of our admissions team, supervises the entire process, signing off on all major steps – elevator pitch, resume, school list, and final essay check – to ensure that every student's application is viewed through multiple eyes and perspectives.
Our next MBA admissions seminars will be held:
Sunday, August 20, 12pm to 2pm Eastern, Live Online
Sunday, September 17, 12pm to 2pm Eastern, Live Online
Can't make it to a session? No worries. We can send you a recording of a previous session so that you can get started on your applications without delay. Just send an email to info@sherpaprep.com and we'll take care of the rest!
What Are You Waiting For?